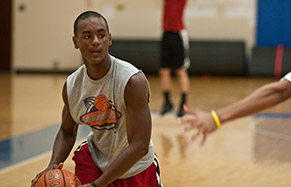 One-on-One Basketball Coaching – Raleigh, NC
Basketball is a simple game, but becoming a player is not. Players must:
Score their position – shoot with range, shoot on the move, finish at the rim
Dribble the ball under pressure
Move without the ball – cutting, setting – using screens
Pass with purpose
Defend individually & collectively
Execute position play – post & perimeter spacing, footwork, decision making
Communicate effectively
Compete!
Basketball players need desire, conditioning, character, a sound belief system, confidence, enthusiasm, persistence, concentration, alertness, discipline and dedication. Players take responsibility for the player that they become, but they also recognize that they cannot reach their potential without outstanding coaching.
Realize Your Potential With Our Personal Basketball Trainers
Our professional coaches will assess your game and develop an improvement program specifically for you. We will work with you individually to maximize your strengths and correct your weaknesses. Personal coaching includes individualized instruction, the preparation of practice routines and participation in small "workout teams" with other players of appropriate ability.
Call now to schedule a personal coaching session.
Teaching Life Skills Through One-On-One Coaching
At NetWorks Basketball, we approach personal coaching as a journey. We form a partnership with the player and the player's parents to tailor a coaching program to the player's individual goals. Our coaches bring the same commitment and passion to each training session, whether you'd like to make the team, improve a specific skill or simply increase your confidence when playing a pick-up game.
At NetWorks, personal responsibility is key – each of our players must take ownership of their goals and be the driving force behind their own success. We cannot make you better; we can only give you the guidance and tools to improve. The question is: How will you use them? The players that reach their goals are those who take the skills they've learned at NetWorks and apply them at home, in practice and when it's game-time.
Are you ready to build your game? Reach your goals with help from the personal basketball coaches at NetWorks Basketball. We offer personal coaching for players in Raleigh, Cary, Apex, Smithfield and the surrounding areas.